TURMERIC-THE GOLDEN SPICE
Indian food needs turmeric. Turmeric, a ground spice has an striking yellow colour and has many health benefits. Turmeric has great anti-inflammatory properties. This spice gives Indian dishes a beautifully rich colour. Turmeric is made from the root of a plant in the ginger family Curcuma longa (Family: Zingiberacea). It has been used in Asia for centuries as a colouring dye, food colouring, and in Indian traditional drug.
India produces nearly all of the world's turmeric crop and consumes 80% of it. With its inherent properties and high content of the important bioactive element curcumin, Indian turmeric is considered to be the best in the world. Erode, a city in the South Indian state of Tamil Nadu, is the world's largest cultivator of and the most important trading centre for turmeric. It is also known as "Turmeric City". Sangli, a city of Maharashtra, is next only to Erode.
India is by far the leading producer and exporter of turmeric in the world. Andhra Pradesh, Tamil Nadu, Orissa, Karnataka, West Bengal, Gujarat, Meghalaya, Maharashtra, Assam are some of the important states cultivating turmeric, of which, Andhra Pradesh alone occupies 38.0% of the area and 58.5% of production. Turmeric occupies about 6% of the total area under spices in India. Turmeric stands third in the total exports of spices from India.
India exports turmeric to North America, which is one of its largest market ,Europe has also been the fastest growing market.
India also exports to UAE, Iran, the US, Sri Lanka, Japan, the UK, Malaysia and South Africa.Turmeric is also cultivated in China, Myanmar, Bangladesh, Nigeria. The other countries which contend with India in turmeric exports are Myanmar, Indonesia and the Netherlands.
There are around 30 varieties that have been recognised in the type of Curcuma in which turmeric belongs. Amalapuram, Armour, Dindigam, Erode, Krishna, Kodur, Vontimitra , P317, GL Purm I and II, RH2 and RH10 are some popular Indian kinds among them.
Health Benefits of turmeric:
1)Curcumin is a natural anti-inflammatory compound.Turmeric is being used in India as an anti-inflammatory agent to treat gas, toothaches, chest pains, and menstrual imbalance.
2) Turmeric curbs early aging. It contains antioxidants and anti-inflammatory elements. These characteristics may give natural shine to the skin. Turmeric also revives the skin by bringing out its natural glow.It is used for curing of injury and used in beauty treatment as well.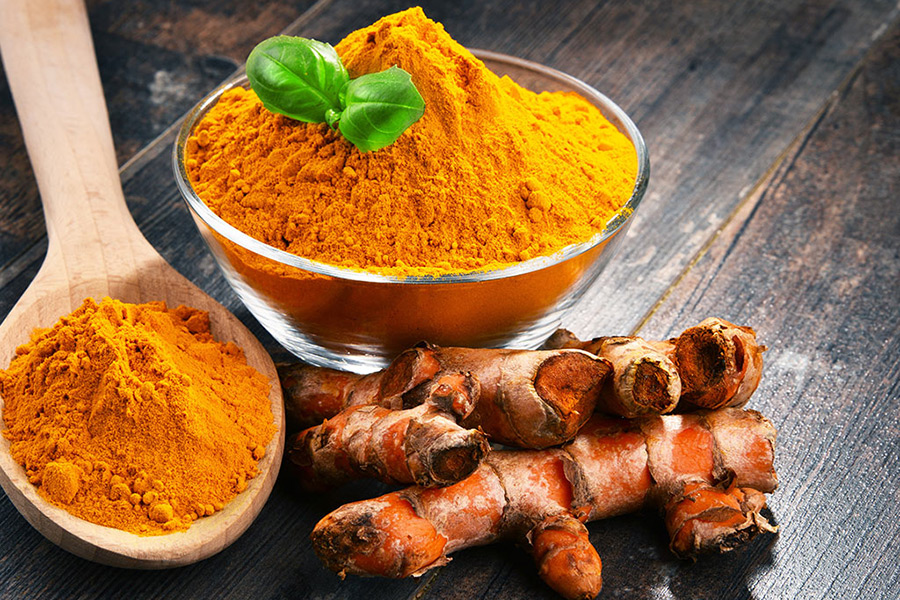 3)Turmeric contain a property of antioxidants; numerous studies suggest that they are inhibit tissue injury and swelling due to blood sugar and cholesterol. Antioxidants like curcumin looks for free radicals that produce inflammation. By reducing oxidative stress, they can also reduce inflammation.
4)Spices play a significance part as anti-proliferative, anti-diabetic, and anti-inflammatory. They act in curing of diabetes, cardiovascular conditions, arthritis, and certain cancers.
5)Curcumin has benefits against depression.Curcumin, the bioactive element present in turmeric, has been linked to treating anxiety , depression , and more due to it boosting serotonin and dopamine levels.
6) A study suggests curcumin may curb the development of atherosclerosis, or clogged arteries, a crucial threat factor for heart attacks and strokes. Turmeric may help in keeping the heart healthy by improving the function of the lining of your blood vessels. Hence, this helps regulate your blood pressure, blood clotting and other factors vital to heart health.
7)Turmeric-based compounds have also been touted as one of the best treatments for Alzheimer's, arthritis, and breast cancer.Turmeric may help thwart the breakdown of brain cells that occur in Alzheimer's disease.Turmeric may curb the formation of plaques in the brain.
8)Some studies suggest the curcumin in turmeric and black pepper has a variety of health benefits, including fighting cancer cells. They have learnt it might work against lung, breast and prostate cancers. Others suggest that curcumin might help chemotherapy work .
9) Curcumin which is present in turmeric may give relief for osteoarthritis, rheumatoid arthritis and other inflammatory arthritic conditions.Turmeric can help curb cardiovascular condition , cancer, and Alzheimer's. It may have benefits for longevity as well.